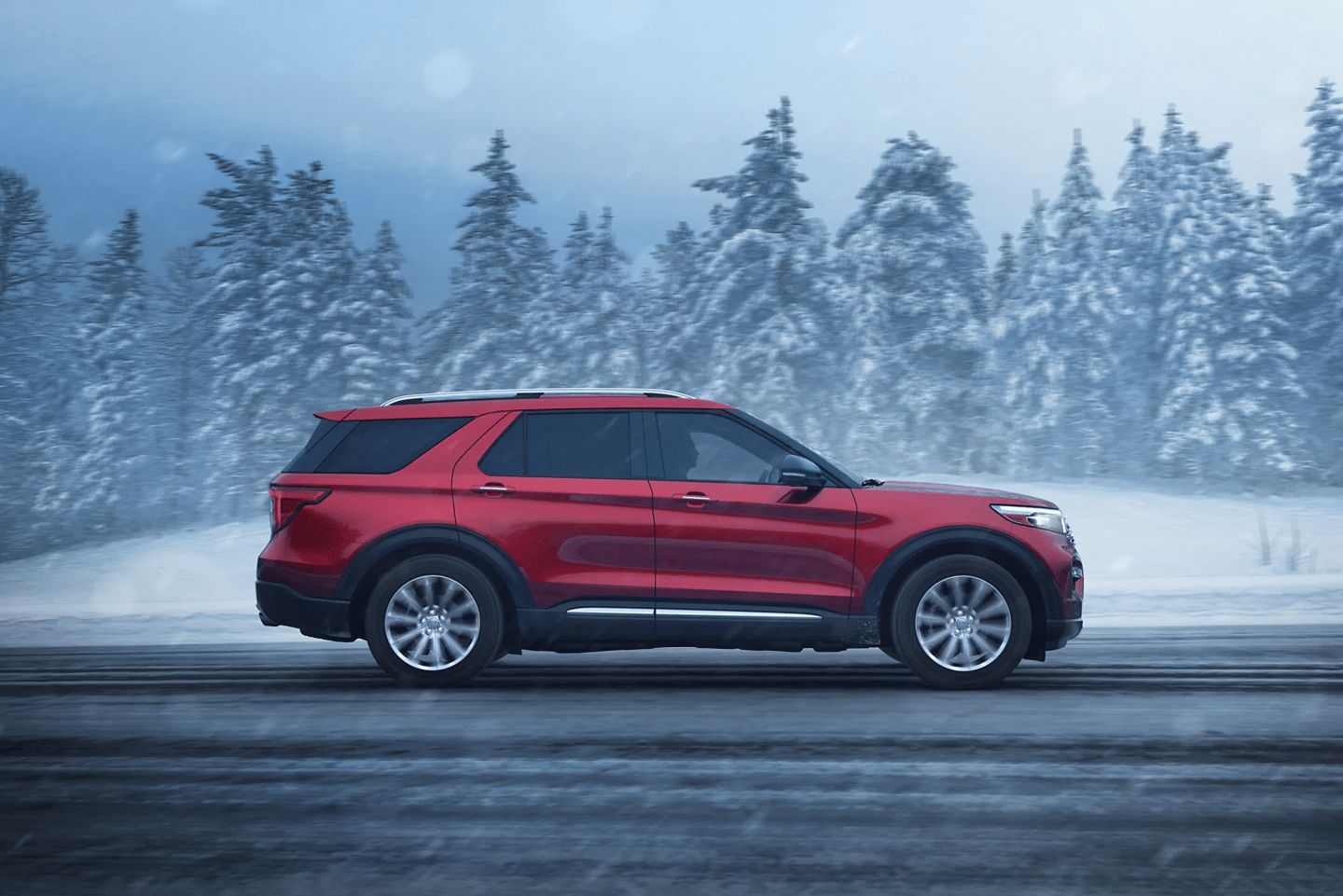 Winter brings strong winds, ice, and snow, which make for less-than-ideal driving conditions. Preparing your vehicle - and yourself - for winter makes even the shortest drive much safer.
Stockfish Ford is here to help the Mattawa area prepare for winter. Whether you would like to upgrade to a four-wheel-drive vehicle or just need to prep the one you have, our sales and service teams are here for you.
Winter Preparations
Winter weather makes driving more dangerous. When road conditions and visibility are not ideal, it is much easier to get into an accident. Preparing your vehicle for winter is not a difficult process, but it can be lifesaving.
When a vehicle is not prepared for winter, it is more likely to:
Lose Tire Traction

Have Engine Problems

Get Stranded on Roadside
If your vehicle needs any repairs before going into winter, it can cause a nightmare. Taking your vehicle to a trusted mechanic is vital. Ask for a tune-up, and be sure that they inspect and repair:
Battery

Brakes

Cooling System

Leaks

Lights (Headlights, Brake Lights, Turn Signals, Emergency Flashers, and Interior Lights)

Spark Plugs

Tires

Worn Hoses
Since repairs can be expensive, it can be easy to put them off, but fixing a minor issue now can prevent you from being stuck on the side of a highway in the freezing cold.
Even if the tires you have on your car are in good condition, it can be worth switching to a winter tire. As the outside temperature lowers, the pressure in your tires also decreases.
Underinflated tires do not provide good traction, especially with poor road conditions. There are many varieties of tires available, so asking your mechanic which is best for your vehicle and your driving habits can help you decide.
It is also a great choice to switch your wiper blades out for winter wipers and fluid. Winter wipers are constructed to minimize ice build-up, and winter wiper fluid helps keep your windshield clear.
Winter Emergency Kit
Preparing your vehicle for winter includes reviewing and restocking your vehicle's emergency supplies. If you do not carry emergency supplies, now is a good time to start.
Pre-assembled emergency kits are available, but making your own means you will be more familiar with what you had. Basic supplies to keep in your car during the winter are:
Basic Car Tool Kit

Blanket or Sleeping Bag

Chains

Drinking Water

Extra Coat, Hat, and Gloves

First Aid Kit

Flares or Reflective Triangles

Flashlight or Headlamp with Extra Batteries

Ice Scraper

Jumper Cables

Non-Perishable Food

Phone Charger

Sand or Kitty Litter

Shovel
Make sure you and any other drivers in your household are familiar with the emergency supplies and what to do with them.
Winter Driving
While preparing your vehicle for winter is important, so is knowing how to drive. When the roads are covered in slush or a hill is icy, it changes how you operate your vehicle. Make sure you know how your vehicle works and any safety features it has, such as anti-lock brakes or electronic stability control.
Focusing on driving is always important, but when conditions are poor, getting distracted can be much more hazardous. Turning down the volume and putting your phone away can help keep your attention on the road.
Also, keep an eye on your vehicle's fuel gauge. Snow and ice can cause delays, which makes running out of gas more likely. Consider filling up when your tank is half empty. It will mean more stops, but it is better than running out.
If you start to feel drowsy or cannot keep your eyes open, pull over. Find a rest stop or other safe location to take a break. Drinking coffee and stretching can help you stay alert.
If you or anyone in your household is new to winter driving, take some time to go over safe driving practices. A few winter driving tips include:
Driving Slower – it is harder to stop and stay in control on slippery roads

Being Patient – it is better to be late than stuck in a ditch

Accelerate and Brake Slowly – slower changes in speed help you stay in control

Do Not Power Up Hills – gain inertia on the level road and use it to carry yourself up the hill
If you do find yourself in a winter emergency, it is best to stay with your car and use light to signal for help. Leaving your vehicle running can cause carbon monoxide poisoning, so only turn it on for short periods of time. Having the right gear in your emergency supply kit can help keep you warm without needing the heat turned on.
Get Prepared Today
Schedule your winter tune-up with Stockfish Ford today. Winter weather is setting in, so make sure you are prepared for it.