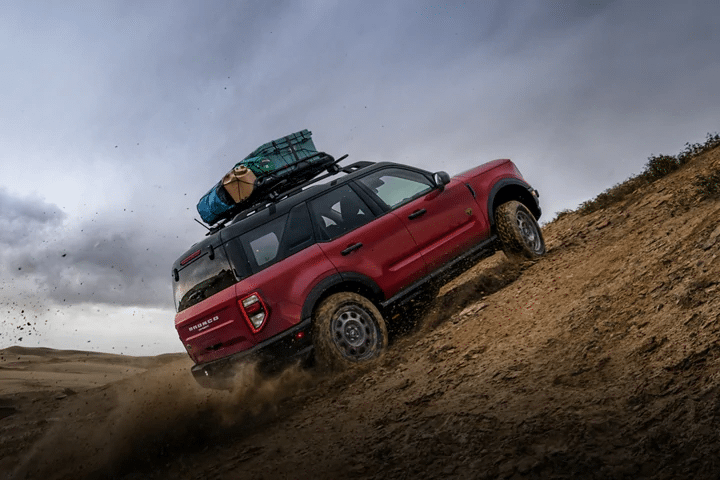 Our team at Stockfish Ford understands the need to get away, blaze a trail, and travel off the beaten path. If you're craving adventure into the wilds, you need to check out the 2021 Bronco.
With power and capabilities that won't quit, technologies that keep convenience at your fingertips, and safety features that inspire confidence for the journey ahead, you've got to see these new Broncos to choose the model that is perfect for you!
Capability
If you want to see where the untraveled road leads, you need a vehicle that can take you there! The Bronco Sport SUV is made for the thrill-seeker, adventure-hunter, and wanderer that lives inside us all.
Standard 4x4 capability ensures you'll see all your adventures through. Distributing power to all four wheels adds traction and minimizes wheel slip when you're heading into the toughest territory.
G.O.A.T. (Goes Over Any Type of Terrain) Modes allow you to choose the kind of terrain management you need for each situation: Sand, Slippery, Sport, Eco, and Normal. Badlands models come with two additional modes: Mud/Ruts and Rock Crawl.
Every Bronco Sport has a H.O.S.S. Suspension (High-Performance, Off-Road, Stability, Suspension system) that's torture-tested and optimized to help take on the most rugged terrain. Front struts with hydraulic rebound stops are designed to provide a quieter and gentler off-road experience.
Worried about being too rough? Don't be. Steel bash plates protect your underbody and available all-terrain tires bring you the confidence you need to tackle rocks and rough trails. Badland also comes standard with heavy-duty front tow hooks for when you find yourself needing a little extra boost.
Easy-to-clean interior surfaces allow you to traverse over the mud and through the creek, up the rocky hills, and down the steep inclines. The easy-to-open valve in the floorboard allows you to wash out the interior, flushing all dirt and debris out with ease.
Technology
No matter where you roam, you need to stay connected. Let the 2021 Bronco Sport keep you in-the-know even when you're on the go.
FordPass Connect and SYNC 3 allow smartphone connectivity to the 8-inch touchscreen. Access all your contacts, playlists, podcasts, and navigation systems.
Need some help? Our available off-road tech trail view camera projects the trail ahead and provides suggestions to get you over the most difficult terrain.
You've got places to go and things to do - don't worry about remembering your phone charger. Our available wireless charging pad recharges your devices cordlessly. Just place the device on the pad and feel reassured you'll have all the charge you need once you get where you're going.
Every journey needs a soundtrack. Plug up your playlist and don't miss a beat with the B&O Sound System by Bang & Olufsen to help keep your adventuring mood alive!
Safety
You can't traverse into the wild with good conscience without knowing you'll be able to do so safely. Our Broncos have all the latest and greatest safety technologies, including driver-assistance options that make a real difference when you're on the road. Be sure to ask our sales team members which of these safety features are available on the model in which you're interested. Some of these features include:
Auto High-Beam Headlamps. You may not consider headlamps a safety feature, but that's just because you haven't seen these. Sensors detect ambient light and automatically dim or brighten your headlights according to the situation at hand. You don't have to think about light at all. We do it for you!
Blind Spot Information System. When traffic enters your blind spot, we alert you with a small light in your corresponding side-view mirror. You don't have to take your eyes off the road ahead in order to make a safe lane change. It's that simple, but that revolutionary.
Lane-Keeping System. If our sensors detect you're veering out of your designated lane, our system gently guides you back into your lane of traffic. If the system notices that you've drifted out of your lane several times, it suggests that a coffee break might be a good idea.
Pre-Collision Assist with Automatic Emergency Braking. Sometimes traffic slows down or even stops abruptly, leaving you little time to react. This system detects when traffic is moving too slowly for your existing speed and warns you to slow down. If you don't have enough time to react, our automatic emergency braking system is activated and brakes are applied for you.
These are only a few of the ways we keep you safe off the trail and on the highway. Be sure to ask a sales team member to explain all the safety features available on your preferred model.
About Us
At Stockfish Ford, we know you expect only the best in top-quality vehicles and service. We work hard to exceed your expectations. If you're looking for a reliable, powerful vehicle that will take you all the places you long to travel, the 2021 Bronco is where you should start looking.
Kick the tires. Take a test drive. Let us show you all the Bronco has to offer. Visit us TODAY on Highway 17 at 11 and see for yourself. You won't be disappointed.