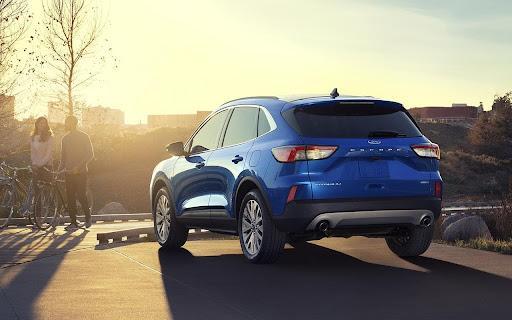 Buying a car shouldn't have to be an ordeal. Here at Stockfish Ford, we believe in an easy and stress-free car-buying experience, from the moment you step into our shop to the moment you drive away in your new car. You're looking for the perfect vehicle, and we're looking to provide you with the perfect car-buying experience.
There's often a lot of tension and anxiety that surrounds a visit to a car dealership. But knowing what the experience is like ahead of time is key. Here's what you can expect from our team of skilled salespeople.
Quality Help and Assistance
No matter where you are in your car-buying journey, our sales team is here to help. If you know exactly what car you want, we'll get it for you, no hassle included. If you're still trying to choose, we can help you find the car that fits your every need. Just tell us what sort of features or space you'll need, and we'll come up with a list of quality cars to choose from.
Our staff will never try to sell you something that won't work for you or your family. If you need at least six seats, we'll get you six seats. Want a sunroof? We'll get that, too. We believe the perfect Ford exists for you, and we'll help you find it.
Cars That Fit Your Budget
You have a budget in mind when it comes to buying a car, and we respect that. Our sales staff will never try to pressure you into buying something outside of your price range. We're not about selling everyone on the newest, priciest model. We're about getting you in the car of your dreams.
Our dealership also stays up to date with all Ford sales and offerings. Our knowledgeable staff is happy to suggest and offer any discounts that are available. Offers and sales change throughout the year, so be sure to check in with us if you're looking for a specific deal.
Assistance with Financing
Once you've found the car of your dreams, we'll be there to help walk you through financing. Applying for credit through Ford is easy and quick, and our team can help you apply right there in the dealership. You'll get a speedy response in terms you can understand, and our team can help explain anything you don't.
Even if you don't qualify for credit through Ford, our team can still help you get financing through other means. We want you to drive away in the car of your dreams, so we'll work with you through any lending service to make that happen. We'll help get all the documents and information you need to send in your loan application.
Ample Test-Driving Time
You can't always know a car is the one in five minutes. To get a real feel for the vehicle, you need to test drive it more than just once around the block. You can schedule a test drive ahead of time or simply take a car out on the road when you come in. We'll give you plenty of time to drive around in your vehicle of choice, making sure everything is as you want it to be.
You can test drive the exact car you're looking to buy, so you'll be able to see that everything works to your liking. You can also adjust all the settings to ensure you'll have a comfortable ride in your new car. And with one of our team members along for the ride, you'll be able to ask any questions about the car as you go.
Easy and Economic Trade-Ins
A new car for someone doesn't always have to be a new car. Sometimes the perfect fit is a used car that still runs perfectly. We're always interested in trade-ins when someone buys a car with us.
Our dealership is ready to make you a fair and accurate offer for your old vehicle. We want to make sure we're getting a quality car to sell, and we want to make sure you're getting quality pay for it. We'll never undervalue your trade-in. When you trade with Stockfish Ford, you'll always get the best price.
Buying a new car should be a fun and exciting experience. And now that you know what you can expect from our dealership, we hope you are ready to get out there and discover the car of your dreams.
To start your search, call us at 855-999-5231 or stop by our showroom open 8:30-5:30 Monday through Friday. We're here to help, and we can't wait to get you in your new car today.